elcome to Duncanville Bookstore! Your headquarters for all things related to comic books, trade paperbacks, graphic novels, card games, board games, toys, novelties and action figures!
Duncanville Bookstore has a long history in Duncanville, TX and the local collecting community. We take pride in our customer service and look forward to doing business with you.
Comics & Trades
We have a wide variety of comics from Marvel, DC, and Independent publishers ranging from as early as the 1930's to the newest and latest releases. When you enter our store the first thing you will notice is our large inventory of back issues. We also carry graded books (CGC and CBCS), key issues, first appearances, variant covers, and more. Since we are always buying our inventory is always being updated.
In our store we have a wide selection of trade paperbacks from Marvel, DC, and independent publishers. Trades are a great way to enjoy stories that are difficult to find or costly to purchase and allow the reader to read multiple issues from a series. They offer customers a way to catch up on past story lines and try new series. We at Duncanville Bookstore strive to keep a current stock of everything in print.
New Comics Every Wednesday!
Toys & Novelties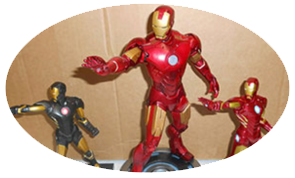 We have a great selection of toys and statues here at Duncanville Bookstore including action figures, loose and carded, from all ages. We have Marvel Legends, Marvel Universe, DC Direct, DC Universe, Transformers, GI Joe, Star Wars and so much more! If you want to replace the toys your mom sold in a garage sale or if you want the latest build a figure, check us out!!
We also carry some great impulse items including Key Rings, Wallets, Decals, Posters, Vinyl Banks, Buttons and of course, Pop Vinyl figures. Whether you want to show the world that you are on the side of the heroes or that you are an empire kind of person, we have your bling!!
Games & Cards
If you are a gamer, we have stuff for you too! We stock the latest releases of Board Games and RPGs. We also have some of the more traditional games like Monopoly and Risk but set in the Pop Culture style of Star Wars, Walking Dead, Jay and Silent Bob and more!! We can't forget the card gamers. We try and keep every edition of Pokémon, Dragonball Z, Yu-Gi-Oh, My Little Pony and Magic the Gathering that is currently in stock. If you are in to Heroclix, X-Wing and Dice Masters, you have a home here as well. We have an entire wall of Booster packs from all three popular games in stock. We carry supplies as well, including card sleeves, mats, binders, deck boxes and more!! We hold store sponsored tournaments as well as having tables set up for free play so, if you and a group of friends want to play, come on up to Duncanville Bookstore!!
Do you love cards but not into the card games? We carry some of the latest Non-Sports cards in our store. We regularly have the newest releases of Star Wars, Walking Dead, Marvel Universe and other Pop Culture related sets for you to buy!!
FEATURED ITEMS
AVAILABLE ON OUR EBAY STORE